Squid Game is a South Korean Action-adventure Suspense Survival TV Drama directed by Hwang Dong-hyuk, starring Lee Jung-jae, Park Hae-soo, Wi Ha-jun. Squid Game aka Round 6 released on Netflix on 17th September 2021.
Squid Game (Round 6) Season 1 has a total of 9 episodes. A game whose winning prize is KRW 45.6 billion. With every round, eliminated players got eliminated, where elimination means players are killed. A bloodshed game for a winning prize of KRW 45.6 billion played between 456 players, is not just a children's game, but the game is about survival too.
Here are the few characters from Squid Game whom we liked a lot and wish they were not dead.
HoYeon Jung as Kang Sae Byeok (Player 067)
Squid Game Sae Byeok Death
After completing the 5th game, Sae Byeok was one among the three finalists, but she died before the final and sixth game began. Fifth game was Glass Stepping Stones, in which a way was made with two types on glass and the player must go through the way and upon reaching the other side, the player will win. One glass was tampered glass which can hold the weight of two person while one glass was ordinary which will break, that is the glass cannot hold weight of any single person.
Though Sae Byeok successfully completed the game as she was 15 number player, so it was very clear which glass is tampered as other ordinary glass already broke when other players passed through them. When all the three finalists Sae Byeok, Sang-Woo and Gi-Hoon successfully reached the other side, all the glass bursted like crackers. The broken glasses injured all the three finalists, hurting Sae Byeok the worst. Sae Byeok got a cut in her waist. When Sae Byeok went to washsroom to wear the new outfit given for the finalists to wear, Sae Byeok's injured waist was shown where a piece of glass was stuck. Sae Byeok removed the piece of broken glass, but she was losing too much blood. Sae Byeok used her old uniform to cover her wound.
Sae Byeok knew very well she will not get medical assistant as the game demanded more people dead. Sae Byeok did not even had her dinner properly. She was in pain but she kept quiet. Gi-Hoon when went to talk to Sae Byeok that they will fight in the next game together as a team, he came to know about Sae Byeok's wound. Gi-Hoon cried for help and went to the door and started shouting that Sae Byeok needs medical treatment. While Gi-Hoon was trying to get help, Sang-Woo killed Sae Byeok by cutting her neck using the knife they were given after dinner.
Anupam Tripathi as Ali Abdul (Player 199)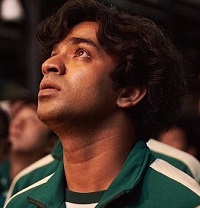 Wi Ha-Joon as Hwang Joon-Ho (Korean Police)
Instagram – wi__wi__wi
Lee Yoo Mi as Ji Yeong (Player 240)
Instagram – leeyoum262
Park Hae-Soo as Cho Sang-Woo (Player 218)
Instagram – haesoopark_official